Anthony Anderson might be a successful actor, but he still has goals he wants to complete. According to The Jasmine Brand, Anderson went to Howard University and was paying for his education by himself. After not being able to afford it anymore he was forced to leave.
Sign Up For Our Newsletter!
His son currently attends the university and he decided that he would fulfill his goals. Anderson said, "I was paying for college myself, and I ran out of money after my junior year. I've been speaking with the university … about creating a curriculum that I can take online and at home … so I can walk with my son in 2022. So I have four years to finish one year of college."
RELATED: Anthony Anderson Will Not Face Charges For Sexual Assault
Howard University isn't just special because Anderson went there, but he also met his future wife there. Anderson was so proud to drop his son off at the university to begin college and can't wait to get his degree with him. We wish Anthony Anderson the best of luck!
RELATED: Anthony Anderson To Star In Netflix Chicago Hip-Hop Film "Beats"
RELATED: Will Tracee Ellis Ross Leave "Black-ish" If She Doesn't Receive A Salary Comparable To Anthony Anderson's?
All The Life Lessons We Learned From The Kids On 'Blackish'
1. Life Lessons We Learned From 'Blackish'
Source:
1 of 4
2. Spanking Isn't The Only Way
Source:
2 of 4
3. It's OK To Be Yourself
Source:
3 of 4
4. Stand Up For Yourself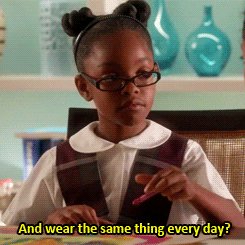 Source:
4 of 4
The Latest:
Anthony Anderson Wants To Complete His Degree From Howard University And Graduate With His Son In 2022  was originally published on rickeysmileymorningshow.com